How to become a full time Influencer
The world of being a social media influencer is growing by leaps and bounds every day, creating both more space to participate and, with that space, more competition in the field.
While it might be hard to imagine, the influencing marketing Industry has grown from *just* $1.7 billion to $13.8 billion in 2021. In fact, current projections indicate that the global market for influencers will surpass $16 billion in 2022! That's why it's so important to:
Discern A Hobby From A Business
Whether you are new to this business or are a veteran of the industry, it is important to figure out a strategic approach for what you do on social media and on your website to grow in 2022 and beyond
So the first question to ask yourself is:
How am I approaching what I'm doing when posting content? Is it my hobby or my business?
This is not a question of whether you are "good" at being an influencer, taking pretty pictures, or writing creatively. Rather, this is a way of determining a.) where you are on your influencer journey, and b.) your roadmap for moving forward as a paid brand partner if that's your plan.
We all know that success doesn't happen overnight; in fact, growing your brand on the internet is a slow burn. The metrics of success can vary widely depending on who you're talking to. Your idea of success might be earning a few bucks on the side while having fun, or it may mean becoming a full-time influencer.
There's no wrong answer here! And both are okay, so long as they align with what you want it to be. Let's chat more about that, shall we?
I should note that being an influencer on the side, posting on social as and when you want isn't a bad thing — it just means you're approaching your role a little differently than someone who depends on this to pay their mortgage, rent, bills and put food on the table.
Posting on the side as and when you want comes without all the stress, worries, and expectations that are part and parcel of being paid for your content creation.
So, how do you determine if your work as an influencer is a full-time business or something you do for fun on the side? Below are a couple of thoughts that differentiate the two for me. I'd love to know what you think and how you would define the differences. Let me know in the comments below!
One of the biggest things to note is the word business. The unspoken part of being a business is that there's money involved. In the influencer's case, money is exchanged for the content created. If you're not receiving any sort of financial compensation (yet), what you do on social, isn't yet a business for you. It can be, but you're not quite there yet. Make sense?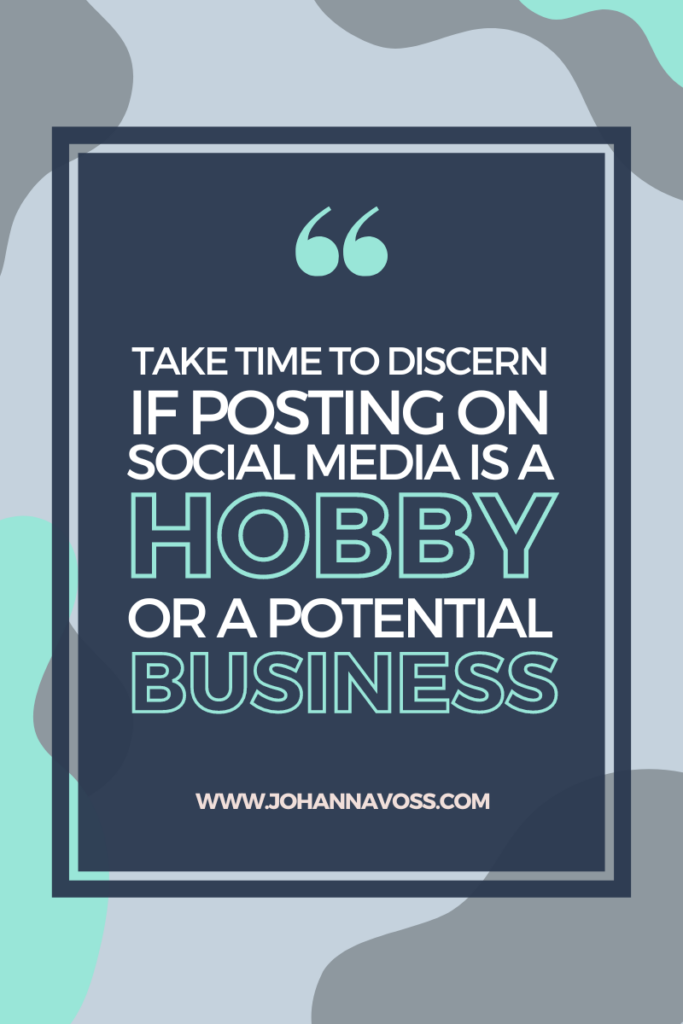 How to know if this is a hobby
You may be an influencer on the side, more of a hobby, if:
You have another job that pays the majority of your bills.
You take what's offered (e.g. promotional freebies) instead of negotiating a set rate for your work.
Brand partnerships and content creation take the back burner when life happens.
You have no larger plan or schedule for content posting or creation.
You often say yes often to opportunities because they seem fun before considering if the partnerships are strategic for your brand and can help you to grow & leverage your business.
How to know if this is a full time gig for you
You may be a full time influencer if:
Brand partnerships and content creation pay your bills.
You earn monetary payment for your work.
You regularly and consistently post new (or updated) content.
You have a schedule for your work, and/or you strategically plan your daily/weekly/monthly content.
You regularly seek out brand partnerships that align with your long-term growth goals.
What does it mean if I am doing this on the side or treating it as a business?
Once you are clear where you are on your influencer path, you can determine
If it's the right path for you, then carry on doing what you're doing. If it's not the right path for you, good to know! Spend some time thinking about what your hopes and desires are with this. Give yourself a future financial milestone for an amount of money earned from a brand partnership. Give yourself a goal for a set number of paid brand partners. TL;DR: Start with a quantifiable goal.
If you're looking to make content creation a full-time business, take a long, hard look at your brand and figure out who and how you serve. What do you do here – here being the internet – that provides value to others? What type of content do you create? What do people take away from your page? Why do they visit and hang out with you online? Do an audit of all your channels and your website, running every piece of content thru that tight filter, answering the questions posed above. Remember the words of Josh Steimle, "If you try to influence everyone, you won't influence anyone."
What your future goals are and the steps you need to take to achieve them. Posting on social media might only be a fun thing on the side at the moment, but you want to go full-time. Or maybe you're already a full-time influencer, but you want to grow your reach, rates + brand. Or maybe you're happy doing this for fun — there's no shame in that game! The key here is that once you can define what kind of influencer you are, it becomes easier to determine your path forward.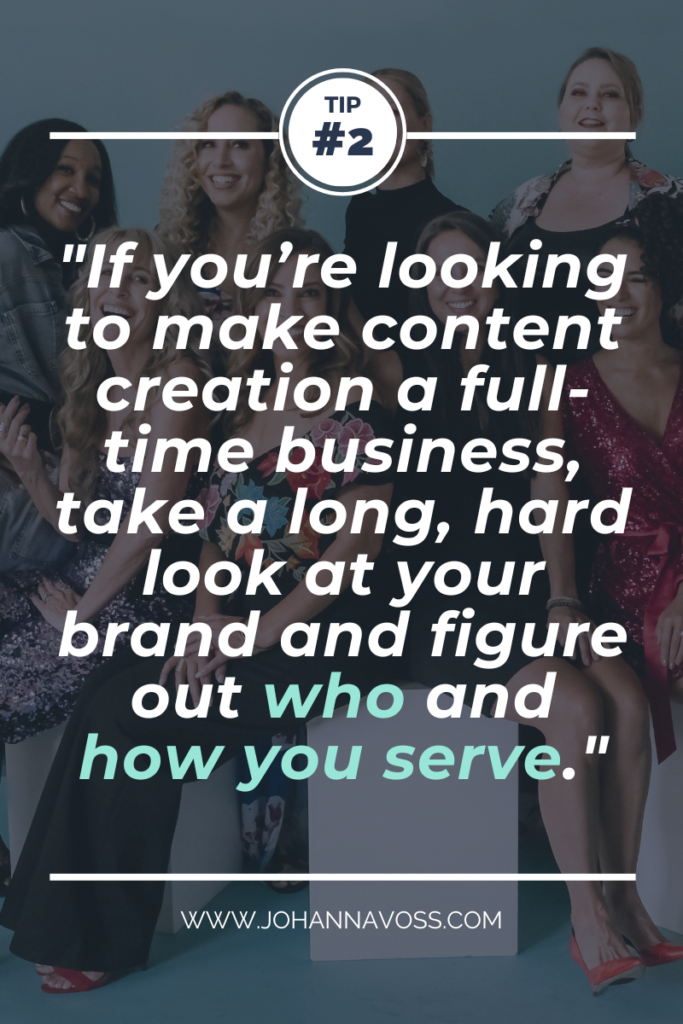 How to make the leap from posting for fun to making a viable business out of content creation
If you are someone who has not yet secured your first paid brand partner, but are regularly and consistently posting content, spending time on your business, and seeking out paid brand partnerships, you are already making significant steps towards becoming an influencer as a business.
Some next steps to becoming a successful, profitable, full-time influencer include:
Start keeping meticulous records for your business. Begin tracking every inbound request. This will help you determine who you need to follow up with and where to begin building relationships. Note who is from an agency and connect with those people. Invest in getting to know them.
Determining your rates and making yourself competitive in the field. While there is no cut-and-dry method of determining your rates, I suggest chatting with others to see if your rates are competitive. I know it's tricky for almost everyone to talk about money so instead of asking someone who has a similar profile (e.g. # of social followers, website content, field of expertise) what they charge, ask them for a range for a single IG in feed post. Or their range for a blog post with social media promo.How do you stack up against them in terms of experience and quality? Will your rates be able to support your lifestyle as a full-time job?
Strategizing your growth roadmap and determine how and where you can provide value to your clients and your followers. The simplest way to do this is to niche down. For example, instead of being a "food influencer," consider focusing on a particular diet (e.g. gluten-free, vegan) or cuisine (e.g. Greek, Peruvian). You might also be able to create a hybrid brand that combines your passions (e.g. Mommy Blogging + Food Blogging) in a unique way.
Start being picky about your partners and begin sharing your rates the next time a brand reaches out. Once you have determined your niche, start working only with brands that support your larger mission. Remember those Q's I mentioned a few paragraphs up? Make sure the brands you want to say yes to align with your brand/platform. Think of it like an interview: why would you say yes to them? For example, if you're a health food influencer, it wouldn't make a lot of sense to work with McDonald's….or find a way that it would. IDK! It's one way to be creative and stand out from the crowded field. That's for you to figure out.
Consider investing in a team. (Click here to read if you're ready for a manager.) Being a solopreneur is not easy! If you're able to invest in help, it's single-handedly one of the best things you can do. It may be cliché, but we DO go further together. Maybe it is time to bring on a virtual assistant, a social media manager, a ghostwriter, or a talent manager. Determine where your strengths are and where your struggles are and then start thinking of creative ways to fill the gaps.
Further Reading For Influencers :

Was this article helpful? Do you still have more questions? Let me know in the comments below!
For more helpful tips on how to jumpstart your influencer career, be sure to follow me on Instagram – that's where I hang out daily and continue to share more helpful tips, tools, and wisdom about making it in this online space.
I wish you the best of luck on your journey to winning the hearts and minds of your followers. And, in the meantime, I leave you with great quote about influence:
The real beginning of influence comes as others sense you are being influenced by them ― when they feel understood by you ― that you have listened deeply and sincerely, and that you are open. –Steven R. Covey