How to collaborate with travel brands
Hey there fellow travelers! Have you ever dreamt of collaborating with your favorite travel brands and turning your passion into a career? Well, buckle up and get ready for the ride of a lifetime, because I'm about to share some juicy insider tips on how to partner with travel brands and make your mark in this exciting new industry! Let's dive in, shall we?
5 steps on how to become a travel influencer
First : Establish your brand.
As much as we all want to jump right into the deep end, you FIRST need to establish yourself as a credible and trustworthy influencer. Travel brands are looking for influencers who can offer a genuine, engaging, authentic experience for their followers. Perhaps more importantly, they're also look for someone who can deliver measurable results for the brand.
So, how can you do this? Start by building your own brand. What do you represent? What kind of traveler are you? Create a consistent and aesthetically pleasing feed that showcases your travels and lifestyle.
Don't forget to interact with your followers. Ask questions, respond to comments, and make sure you're visible throughout the social media space. To that end, you should also engage with other influencers and brands in your niche.
Flirt with brands by talking about them in your stories, or give them a shoutout when you see something cool that they're trying. While you're not getting paid for these mentions, consider these actions "paying it forward." Brands want to collab with influencers who are familiar with and natural fans of what they have to offer!
You should also create a stunning media kit. In short, your media kit is a resumé-meets-portfolio that you can give to brands. It should outline hard numbers like your audience demographics, engagement rates, and conversion rates on previous collaborations.
Second : Embrace your inner Sandy Koufax because it's time to pitch.
Once you have established yourself as an interesting, authentic, and reliable influencer, it's time to start pitching yourself to travel brands. Wondering how to pitch to travel brands and where to start? Why, by hitting the books (or the Google) of course!
Do your research. You want to make sure they align with both your values and your aesthetic, right? Check their socials, their website or blog, and research their past collaborations to make sure they're the right brand for you.
It's also important to consider whether the brand is a good fit for your audience — will your followers be interested in the brand and what they offer? By doing your due dilligence, you'll be able to create authentic and successful partnerships that benefit you, your audience, and the brand.
Once you're confident that the brand you're seeking a partnership with is the Cinderella you've been seeking, reach out to the brand directly. You can do this via email or by sliding into their DMs. You'll want to introduce yourself and explain why you believe you would be a good fit for their brand and how you can offer value to their campaign.
Remember, it's not all about you. When you're pitching, be sure to highlight the benefits you'll bring to the table. Share *some* creative ideas for how you can showcase their brand in an engaging and authentic way to your followers (but keep some of that good good for when they've signed on the dotted line). Offer statistics and previous results from other collaborations to show the brand that you have a track record of success.
Oh, and before I forget — not every pitch is going to work out, and THAT'S OKAY. This is a numbers game, so check your ego and keep on practicing.
Third : Before you sign, READ EVERY LINE.
If the brand is interested in collaborating with you, great! Now's the time to establish clear expectations and deliverables. I know you're champing at the bit to get paid, but proceed with caution. Read through the ENTIRE contract, and use it as a jumping off point.
Contrary to what you might think, contracts aren't just some complicated piece of legalese the companies throw in the puzzle to stump you. They're actually where they outline important parts of the agreement, like what they are paying you for.
In addition to the contract, make sure to read through ALL the documents we send your way. They're usually quite careful to include things like your itinerary, the hashtags you should be using, and the social account tags you should be referencing.
This is a non-negotiable. In fact, it's considered the most basic form of preparation for your trip! The brand has already assembled the information, so do them the favor of giving it at least a once-over.
As Joe Gibbs said, "A winning effort begins with preparation." Prepare in advance – which really just means looking at the materials that we have prepared for you – and you're much more likely to impress us enough to keep working with you in the future. Said another way, fortune favors the prepared!
Also, remember, the first offer is just that: a FIRST offer. More often than not, you're going to need to do some negotiating. Make sure you're clear on what you are supposed to provide in terms of content, and when you will deliver it. You'll also want to discuss compensation and any other logistical details upfront so that there are no surprises later on.
When you're negotiating, make sure you're clear on whether you're being offered trade opportunities, paid opportunities, or FAM trips
Wondering what that all means? Not to worry, I got you, boo. There are a number of different ways you, an Instagram influencer or social media influencer, can partner with travel brands.
First up: Trade Opportunities! This is when a travel brand offers an influencer free products, services, or experiences in exchange for exposure on their social media platforms. Essentially, it's a non-monetary exchange where the influencer receives a free product or service in return for promoting it to their audience.
Trade opportunities can be a great opportunity to practice your negotiation skills with travel brands and experience new destinations, experiences, or products. However, it's important to remember that exposure doesn't pay the bills, so you'll need to balance trade opportunities with paid collaborations. (Unless of course you're a hobby blogger, in which case the free trip might be all you need!)
Next up are Paid Opportunities. This is when a travel brand offers an influencer monetary compensation for promoting their product or service on social media.
Paid collaborations can range from a one-time sponsored post to a full-scale campaign that includes multiple deliverables and a long-term relationship with the brand. Paid opportunities provide influencers with a direct income stream and allow them to invest in their business and grow their following.
Last on our list are FAM Trips. No, this doesn't mean a free trip for your fam..ily. It's short for a familiarization trip. This is when a travel brand invites an influencer to experience their product or service first-hand, typically by providing a complimentary trip to a destination.
FAM trips are a great way for influencers to build relationships with travel brands, experience new destinations, and create high-quality content for their audience. However, it's important to note that FAM trips are typically trade opportunities and not paid collaborations.
In other words, while influencers may receive a free trip, they're not necessarily receiving compensation for the time and effort they put into creating content during the trip. This isn't a bad thing, per se, but you'll need to balance this with other considerations (like paying your bills).
But, how do I know if I'm in the running for these opportunities?
These opportunities — trade, paid, or FAM trips — aren't just limited to local travel influencers. Even if you're based in a different state, for example, a tourism board from a different region might still be interested in partnering with you if you have a sizeable following in a demographic that frequently visits their destination.
For instance, if you're based in Texas and the tourism board is based in Colorado, they may want to collaborate with you because many Texans travel to Colorado. So don't count yourself out — there are plenty of opportunities to partner with travel brands, regardless of where you're located!
Fourth : Now it's time to get your expectations in check.
Ok, you signed your first brand deal and you're packing your bags. While it's totally understandable that you're currently on cloud 9, bring it back to Earth for a sec.
For a lot of people the idea of being a travel influencer is very glamorous, but the reality is — it's not. 😂 Granted, I'm not a travel influencer but I have traveled with several and been behind the scenes on more than one occasion. Not to burst your bubble, but it's exhausting.
Your day quite often has a full agenda/itinerary of places you must (or should be) visiting. Then, you get back to your hotel room exhausted at the end of the day or back to your house after the trip and now you have to create and edit the content.
But what if you're already off again on another trip or client project? You may not remember which video clip is for what destination. And, quick as you are with creating content, your creativity and attention to detail can run out when you're bouncing from trip to trip.
I'm not saying all of this to scare you. Rather, I'm offering this as a friendly piece of advice — create strong systems to ensure that you're delivering stellar content to the brands you work with every single time. While you're at it, make sure to follow these best Influencer practices.
Fifth : Before you post, make sure you add a disclosure so as not to piss off the Federal Trade Commission.
All of the examples above are considered sponsored posts, even if there isn't any money exchanged. According to the FTC there was a value of goods and services exchanged.
The way they see it, a brand collaboration that involves a 2 free night stay and a breakfast, lunch and dinner at the restaurant on the property has a monetary value that was given to you, in exchange for a certain value of the content that you created. Got it?
I share this so that you know to add a disclosure that it's sponsored content even if you got it for "free." Nothing's ever really free, right?!
Always avoid these serious no-no's:
Remember, your reputation as an influencer is everything, so it's important to be professional and authentic in your collaborations. Here are some of the biggest peeves I've heard from travel brands talking about the influencers they work with:
#1 Bailing On The Contract. 😱😱😱
Sadly, I've heard of more than one occasion where an influencer simply stopped responding to the folks that hired her. Let me let you in on a well-known "secret": Don't ghost on your campaigns or you WILL be blacklisted.
Sometimes life happens and unexpected troubles might get in the way. Maybe your kid got sick or childcare fell through, or maybe you yourself are sick, or you got tickets to the hottest show in town. Let the brand know as soon as you know, and they will do what they can to work with you to get things back on track.
The worst possible scenario is that you simply stop communicating, especially if they've already signed the agreement. At the end of the day, this is a business and it's unprofessional to ghost anyone – no matter how common it is on dating apps (even that guy you don't want to go on a second date with. Just tell him no thanks and move on!)
#2 Not Preparing Ahead Of Time.
Another big no-no? Showing up unprepared. The brand expects you to be a professional — that's why they hired you! Make sure you do your due diligence before you show up on the property.
This means working with them on the itinerary, knowing what the weather will be for your visit, identifying those "must stop and shoot for the 'gram" instagram places and telling them ahead of time if you have any dietary issues.
If any piece of the agreement or itinerary is confusing, ask the brand contact about it! If you're not sure what the deliverables are that are expected of you, have them clarify! If a big news story just leaked about the city/property/company and you're wondering what the official response is, don't assume — ASK.
Pick up the phone whenever a question arises (within reason, of course… if it's the middle of the night, maybe consider shooting us an email or writing the question down for a more opportune time to ask).
Also, make sure you have the cell phone numbers of your primary contacts, and that they have yours. Your job as an influencer is to clearly communicate things to your audience; please extend your brand partners the same courtesy.
#3 Communicating Ineffectively, If At All.
Whether you're a household name or you're a microinfluencer, the brands beg of you: have a little patience and grace. We're all in this together, and everyone is working hard to coordinate the details of your trip and ensure that you have a good time.
Put another way, DON'T act like a diva. Treat the brand the way you want to be treated. Be proactive with asking for what you need, and they'll do what we can to deliver it (again, within reason).
As Emma Thompson once said, "Any problem, big or small…always seems to start with bad communication." Talk to them; they'll listen. And when they speak to you – via trip documentation, emails, or phone – they hope that you'll extend the same courtesy.
#4 Remember: S#!T Happens.
If the pandemic has taught us anything, it's that stuff beyond our control HAPPENS. Weather changes on a dime, staff can be affected by illnesses like COVID, and things may have changed from the original itinerary we sent you. I promise you, this isn't how the brand wanted things to go either.
In an ideal world, things go according to plan. In the real world? Sometimes things just happen.
So if you show up on site and the café is closed due to an unforeseen worker shortage, maybe take a beat before getting mad. We're all trying to navigate the "new normal" as best we can. I can also guarantee that brands didn't throw a wrench in the plans just to see you squirm.
If you didn't have a good experience at any point on your trip, please report it to your trip director immediately. The brands want to fix whatever problem arises for you, and for all of their future customers! Be efficient about your communication, and they will extend every courtesy to make it right.
What isn't helpful is for you to go spouting off a scathing review in the heat of the moment. The brands are your partners, at least temporarily; all they ask is that you give them the opportunity to make things right before you deliver a death-blow to their reputation.
I heard once that building fruitful and lasting business relationships starts with abandoning 'me' and instead saying 'we.' We're all in this together, so let's do what we can to be kind, compassionate team players.
How to collaborate with travel brands FAQs
How do you dm brands for collaborations?
When you DM a brand for collaborations, there's something really important I want you to keep in mind. Do NOT word vomit all over them. Meaning, don't tell them every single thing about you and how you'd be the best partner. Imagine what it would be like to be the agency, receiving 10, 25 or 1000's of them daily. You'd go cross-eyed with all that info constantly being thrown at you, right?
Keep your DM short, simple and to the point. Are you familiar with KISS? (Keep it simple, silly!) Be polite. Ask who the best contact is to follow up and inquire about upcoming influencer marketing campaigns. Start there. Save sending over your media kit for an email contact, not in DM's, and ONLY send it after the person has confirmed they're open to receiving it.
How do you become a good travel partner?
You become a good travel partner for brands by doing a few things on repeat:
1. ALWAYS be professional and polite.
2. DON'T be rude or disrespectful.
3. Turn in content ON TIME.
4. Be realistic. Don't be high maintenance or have sky-high expectations of the partnership.
5. Be communicative and responsive.
Aside from that, going above and beyond for a travel partner is always noticed!
How does influencer marketing work for tourism?
Influencer marketing works the same for tourism as it might for a shampoo or household goods product. It's a form of digital marketing and a way for a brand, in this case a tourism board (e.g. "Visit San Diego" or "Destination Denton Texas") to get in front of a new audience, i.e. your followers.
How do brands notice you as an influencer?
Brands notice when you flirt with them! That's right, it's no different getting noticed by a brand than it is by someone you want to get to know IRL. Tag the brands in your travel content. Mention the brands in your stories.
Had a great travel experience? Share it. Mention the brands you love in your Instagram stories and why their offerings are such an amazing experience.
Travel brands also pay attention to hashtags related to their travel industry. Like all brands, they often pay attention if you visit or do something with brands they consider their competition. But honestly, the best way to get noticed by brands is when you organically share about your experience with them.
Flew down to South America and spent some time in Colombia for a girls weekend (personally I'm dying to visit this country)? Tag the airline company in your content, along with the hotel or Airbnb property you stayed in and anywhere else you went.
This "free exposure" for the brands won't get you anything comped after the fact, but it WILL help you build up your travel influencer portfolio and potentially connect you to a tourism board or two. Consider it part of your long-game strategy.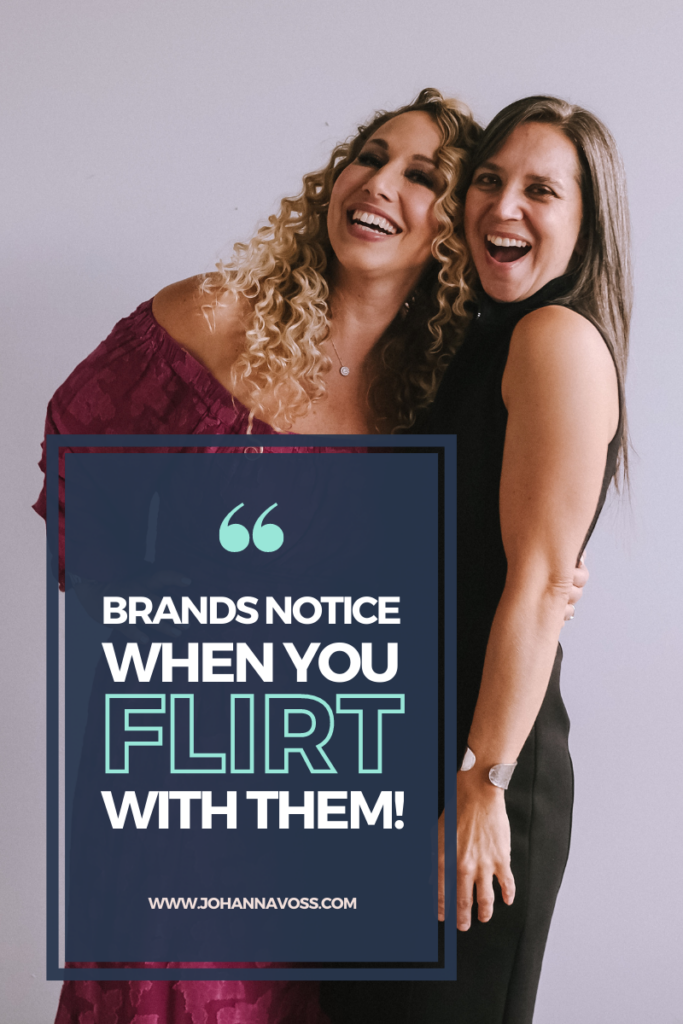 What to ask if a brand wants to collaborate?
When a brand wants to collab with you, that's awesome! I always ask about their expectations of the partnership. What are they open to offering you as a brand ambassador? In return, what do they expect of you as a content creator?
As with any influencer campaign — and even more so on these as they involve travel — you want to double even triple confirm logistics like dates, times, arrival and departure times etc. For more questions you'll want to ask, read my post on How To Work With Brands As An Influencer.
How can you do better as a travel blogger?
I really appreciate this question as it shows you want to improve your craft. Good for you! It's important to make sure you never get complacent in this industry (or really whatever you're doing for work).
First, I would say make sure you've got the best equipment that you're able to afford in order to capture the content you want. Do you have a drone? Should you? It doesn't make sense for everyone but perhaps it makes sense for you. What about your camera? Or your mics (if you have a podcast)?
Next, consider your skillset. Are your content creation skills fire or are they a bit rusty? Thinking about how to improve the quality of the content you create. Beyond what's tangible with new tools, are you going above and beyond in the value and education you give with your travel blog or Instagram stories?
Finally, I always recommend following and trying to emulate some of the content styles you see from influencers you admire. Check out their stills — what about their composition makes their work attractive? Do the same with video. Reflect on their use of hashtags, how consistently they're posting, etc.
Some influencers just have killer content. Their use of equipment, angles, transitions, editing programs is second to none and always leaves me in awe. Tina Lee is one who comes to mind. Comb through her content and see how she's always learning and elevating her game.
[Side note, I've taken her Reels Rocketship program and loved it!. For anyone who looks to start making money with brands, I always recommend her Full Time Influencer course. I do make a small % if you sign up via clicking that link but I asked her to be a referral partner as I'm always referring people to her. My clients and I LOVED the rocketship program.]
When should I follow up with a brand?
I always follow up 2-3 times. Each follow up (which is usually an email) is about 10-14 days apart, depending on the project. There is much fortune in the follow up, so don't be shy to do it!
With so many hotels on the market, how do you know where to start?
Start with what is of interest to YOU. Remember, your followers follow you because they like what you like, and like what you have to say, so start there.
What cities do you like to visit? What hotel chain are you loyal to or have status with? What amenities & features are really important to you? Are they all-inclusive? Family-friendly? Pools and spas? Luxury travel? (And know you'll never get to all of the destinations that you want!)
What brands collab with small influencers?
I don't know exactly what brands collab with small influencers (mostly because it's always changing) but I do know that there ARE brands that do collab with small influencers. Also, keep in mind, small is all relative so never assume you don't have enough followers for a brand to want to partner. What if you have the exact audience they want to connect with? You could be their best brand partner, and the exact travel influencer they were looking for!
How do you ask for free collaboration?
Very nicely & with zero strings attached! Okay, all jokes aside, you need to be polite & professional. Share why it would be a great opportunity for the partner (what do you bring to the table), painting the picture of how you stand out from the rest of the content creators. And never ever assume or expect they will say yes.
How much do beginner influencers make?
Yet another great question that I don't know the answer to. I'm aware of ranges of a beginning influencer making $10,000 their first year and others which made close to or even over 6 figures. It truly depends on a combination of things including your brand, how committed you are to your business, what brands are looking for, how well you negotiate and what sort of budgets are available to work with. There are just too many factors to share a one-size-fits-all figure.
Do you expect one or three nights complementary stay at a hotel?
Nope. Never expect ANYTHING. Ever. You can ask for it, but please don't expect it no matter how big a following you have on any social media platform.
Do you get paid for collabs?
You can, but not everyone does. And just because everyone else is (but TBH "everyone" isn't always getting paid) it doesn't mean you will, or should. Don't compare apples to cantalopes. No two people have the same following, types of content and demographic of their audience. But yes, it absolutely is possible to get paid for your travel content via a tourism board or hotel.
Should you ever accept free products?
Yes. I say that you should accept free product ESPECIALLY if you're at the beginning of your career as a travel influencer and are still building up your portfolio. That's the only way it will happen as you most likely don't have enough followers for brands to pay you for content.
What can you charge for your service?
Unfortunately I can't answer this question. It's truly a case by case basis or an "it depends" situation, which I know bothers everyone of you wanting an answer! Your rates depend on the scope of work, usage desired by the brand, and requested exclusivity just to name a few things. Check out my post on How To Ask For More From Brands to start honing in on what your pricing should look like.
Do travel influencers get paid?
Not all of them do, but yes some travel influencers get paid to travel. My client, Jessica Serna of My Curly Adventures, is a great example of someone has fabulous partnerships with tourism boards and destinations who pay her to travel to them and have a certain experience which she then shares on her social media platforms.
How do you become a travel influencer and get paid?
You become a travel influencer by visiting places, hotels and destinations, whatever travel means to you, and creating content for free. On your own time and dime as you build up your following, your audience. You have to establish yourself as an "expert", the go-to person for that kind of travel.
My client Jessica that I mentioned earlier is one of the top Texas travel influencers. This means that whenever people are looking for things to do in Texas, they turn to her blog, social media platforms and content to plan a trip or know where to visit. They trust her recommendations.
I'll be honest. It's not as glamorous as you may think, hope or expect. It's hard work to build a business, be it one in digital marketing like a travel influencer business or a brick and mortar business like a law firm.
How much is an instagram collab worth?
An Instagram collaboration depends on the budget the hosting brand (i.e. the tourism board, the hotel, restaurant or wherever) has available to put towards the content. Every place has a different budget and a different set of goals they'd like to achieve with each collaboration. And, keep in mind that each hosting destination is also "paying" for the cost of travel, nightly room rates, meals, entrance fees etc.