What does an Influencer Talent Manager do?
If you are well on your way in your journey as a profitable influencer, you may be building a team. If so, you may consider whether working with an influencer manager is the right course of action. You may also be wondering,
What does an Influencer talent manager do?
As an Influencer Agent, I can tell you what influencer management is all about.
While I wear many hats, in a nutshell, my job as an influencer agent is to help you wrangle all the elements of your brand partnership requests.
At our core, Talent Managers are part of an influencer's team to help deal with, respond to and negotiate an influencer's brand partnerships and inbound inquiries. Our role is to close deals, build relationships, and negotiate the best possible deals for both our clients and the brands that want to work with our roster (that's manager speak for "list of clients" 🤓).
In other words, my role is to be the "business insider" and:
Negotiate all the elements of each inquiry (that means getting all the nitty gritty details ironed out to close the deals),
Keep in touch with brand partners and agency contacts (that's the "building relationships" piece), &
Ask for more money than you might on your own (that's the "best possible deal" part).
If you have a steady stream of brands that are knocking at your door with paid opportunities but you're too busy to answer because you're working on other brand projects, I'm your gal.
If details of your brand partnerships are slipping through the cracks & you know you're leaving money on the table because you don't have the time or energy to negotiate, again, I'm your gal.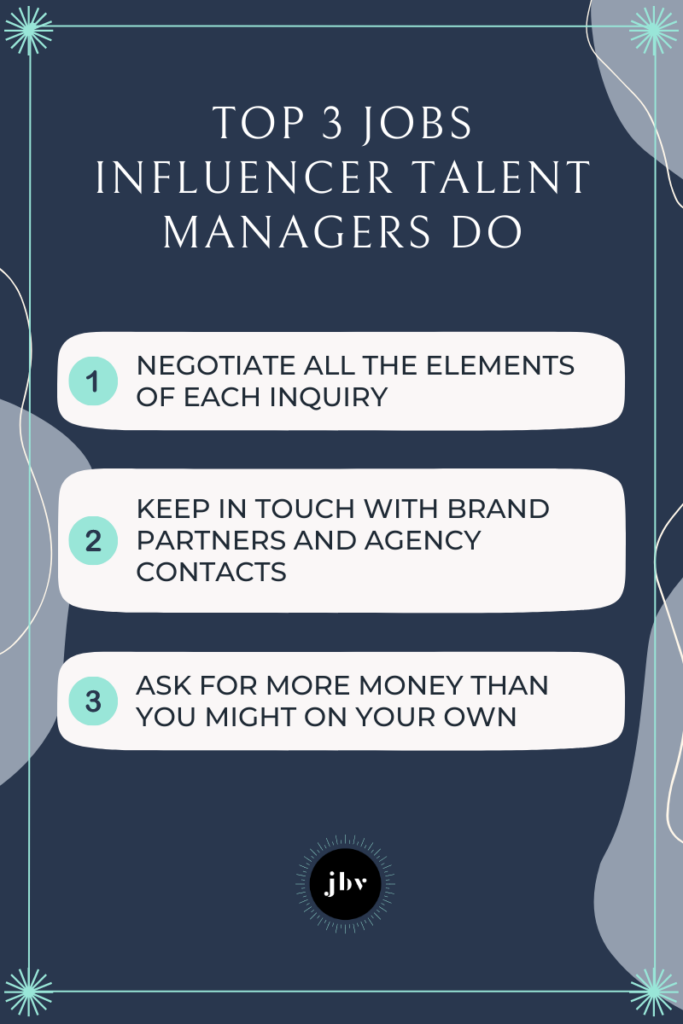 Put another way, Talent Managers are representatives of influencers when talking with brands.
When you are consistently booking gigs but are bogged down in the minutia of contract negotiations and project details, give an influencer agent (like me!) a call.
We are, for lack of a better term, the "middle-women" that act as a buffer between you and the brand. As Marissa Meyer said, "Management is defense."
My primary job is to help you by handling the negotiations. That means I'm the lady who deals with all the "boring" stuff like hammering out the specifics on deliverables and due dates, exclusivity agreements, and — most importantly — making sure you get paid every cent you're worth. (And for the record, none of that is boring to me!)
How much do managers of influencers make?
I don't know if you know this, but,
Influencer Agents work on a commission. That means it is 1000% in our best interests to get you paid as much as you are worth! And if your manager is anything like me (who is highly motivated by money), well, that works out well for both of you!
I'm going out on a limb here, but I assume that contracts and legalese are not what you get out of bed for.
Consider yourself the Aesthetic & Social Talent and me the Business Talent. My full-time job is making negotiations happen, getting agreements signed, and putting projects into motion.
As Taylor Swift once said, "The business aspect is one of the most important things about having a music career." Let your Talent Manager take some of the business burden off your plate!
Having a Talent Manager on your team means you can focus on what you do best — making beautiful, engaging, creative content that will help the success of the campaign and the partnership with the brand. We'll handle *most* of the rest.
As an agent, I love going to bat for my clients. My biggest pride is that I get to represent smart, driven women who have unique stories to tell. My job is to make sure you don't leave any money on the table. I literally get giddy at the idea that I'm helping other women achieve their dreams, because that's my dream.
Lucky for you, I love being the woman behind the woman, helping to make it happen.
While Talent Managers' first and foremost responsibility is responding to brand inquiries (without doing this, there aren't any campaigns), and negotiating the campaign details and budget, managers can handle a range of other responsibilities.
Some managers pitch talent for campaigns, while others help to manage the campaigns directly with their clients and continue to stay involved. And as for me?
Want to know what it's like having me as your Talent Manager?
I personally pride myself on not just being an advocate for my influencer clients, but also being an active member of their team and support network.
I've built my reputation on being professional and efficient, and by helping my kickass female clients scale their businesses. We talk 24/7 — about business, life, celebrity gossip, recipes, trips, and everything else under the sun.
As Anne M. Mulcahey put it, "Employees who believe that management is concerned about them as a whole person — not just an employee — are more productive, more satisfied, more fulfilled." Replace "employee" with "client," and you've got my working ethos.
I know when my clients are having mammograms & colonoscopies (and I'll always encourage you to get yours, because I want to be a good influence!). I know who is having issues in their marriage & whose in-laws are having surgery.
I know who is in therapy & for what. I know who is having troubles with their kids & whose kid just got a college scholarship. I know whose kid hit a home-run at their softball ⚾ game this weekend & whose spouse made salmon and veggies 🥕for dinner last night.
I know whose MIL is going into hospice & which side of the family they are going to celebrate the holidays. I know who to text when I see breaking celebrity news. I know who will appreciate a funny meme. I know who really needs a call even if they tell me not to.
I fully realize that you may be wondering why on EARTH am I all up in someone's business? But that's just it. One of the biggest things to try & explain is how much I adore my clients . 💜 I'm their #1 cheerleader & hype woman, and I'd love to be yours, too.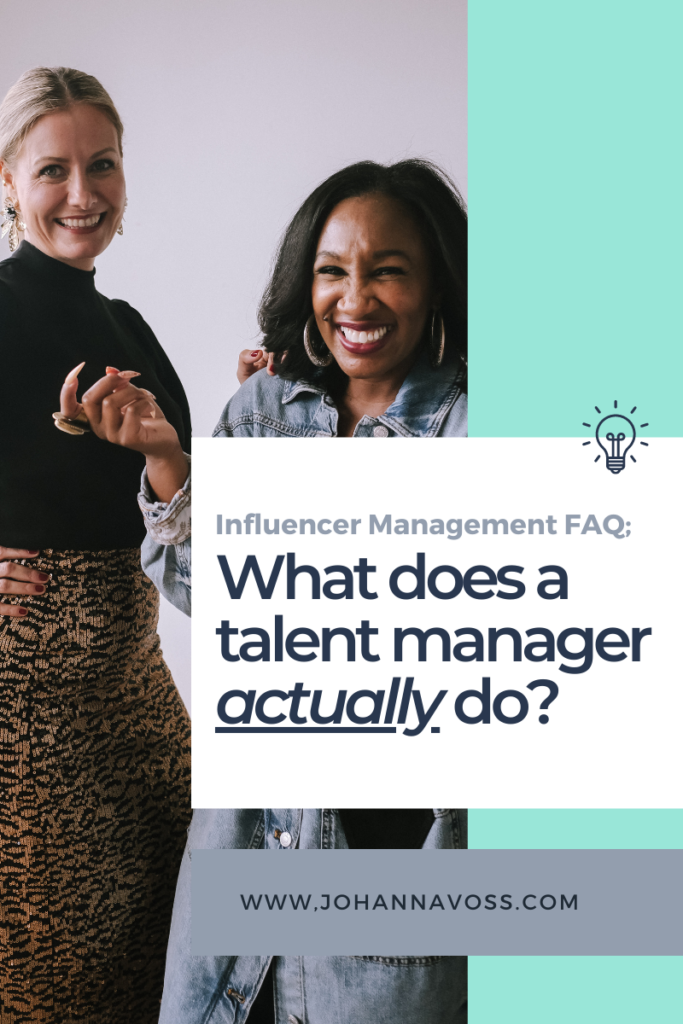 What does an Influencer Manager do FAQs
What does an influencer talent manager do?
A talent manager's role is to be responsive to any inbound inquiries to their clients from brands about any brand partnerships, and then be their advocate on behalf of any resulting contract negotiations.
A talent manager is an asset to influencers, to help them grow and manage their business by taking all the aspects of brand deals off their plate, freeing up time, energy and space to work on the talent's social platforms and other work.
What is talent management in influencer marketing?
Talent management is the role an influencer talent manager assumes, which is primarily to manage brand collaborations between brands and content creators. We negotiate the deals, reply to any incoming brand inquiries, work to confirm the best Statement of Work (SOW) for our talent, and get the best budget available.
Some of us take it a step further and stay involved to manage the project through to completion. What this means is getting the talent the project brief, getting any answers to their questions about the project, and making sure it's all done well and on time.
I also stay involved in the project until the final invoice has been sent and paid. Not all influencer talent managers do that, but I do.
How much do influencer managers get paid? How much do influencer talent agents make?
Industry standard for a talent manager to earn is usually 15-20%. Some influencer agencies charge a different percentage depending on how the initial campaign inquiry came in. Those influencer managers might earn a smaller percentage for opportunities the talent brings to the table vs the ones the manager pitched for the content creator.
I highly recommend you ask a lot of questions when you're interviewing a talent manager to join your team. You want to be 110% clear on how your influencer talent manager earns their commission.
What do talent managers actually do?
Talent managers take on a variety of roles. We negotiate brand deals for social media influencers. We work closely with the influencer's brand partners during the project to make sure everything goes well and the project is successful.
We track down late invoices, which is the worst part of this job, but it's important to make sure our gals get paid. We also manage the influencer to ensure the project is on time.
I personally also wear many other hats with my creators and serve as their cheerleader, sounding board, therapist (on occasion), and the biggest hype woman they know!
What is a talent influencer?
A talent influencer is someone who has a platform and audience. This could be someone who has built their business thru books, keynote speaking, and workshops. Maybe they've recently taken that audience online or perhaps online is where 100% of their following exists.
A talent influencer is someone who stands for something, has a voice and uses it (hopefully for the good of the world!)
What do you mean by talent management? What is an influencer talent manager?
Talent management means the role of having help to deal with paid brand partnerships, the brands that want to work with content creators to raise brand awareness and sell products. Talent management means working closely with the talent, helping them build their business through brand deals and partnerships. It involves negotiation on the talent's behalf.
How do you become an influencer talent manager?
I love this question because there's a wide range of paths to enter the field of talent representation.
Some talent agents start by working on the brand side, recruiting content creators for brand deals. Their first exposure is by contracting and hiring the creators. From that experience they move over to manage digital influencers directly.

Some managers get their start by joining an influencer management agency and get experience managing social media influencers that way, in their day to day work. They may work their way up in the agency, perhaps starting by working with lesser-known talent and then eventually working with new celebrities or the best deals & agency clients.
An influencer talent manager may start with an agency, learn the necessary skills to be a great influencer manager and work their way up in the talent agency. Others may take those skills and decide to launch their own influencer talent agency. There's a lot of influencer agencies out there where you can get a lot of great, relevant experience.
One of the bonuses to working in house with a talent agency is that the agency can provide strong support such as a content strategy team or legal counsel.
Others of us came into the field in non-traditional ways. My path as a talent manager began when I was in a previous chapter of my entrepreneurial career doing operations and strategy work with female entrepreneurs. I did a strategy session with a female content creator who eventually became my first official talent management client, Lorraine C Ladish (link to her). We were working on how to get her business more organized to grow.
When our in-person strategy session ended and I was flying back to Colorado, she asked me to be her talent manager. It was a hell yes for me because, truthfully I had a GREAT feeling about her. 
From that connection, I've built a boutique influencer talent agency & serve as the exclusive manager to my roster of amazing women influencers. This was my first foray into the influencer marketing industry in 2017 and I've not looked back since. I love it!
Everything I know about influencer talent management has been from falling back on the strong skill set I had prior to becoming a talent manager, coupled with being a quick learner.
How do I start an influencer talent agency?
In order to have an influencer talent agency, you first need to find content creators that will agree to have you as their influencer manager. That's where you start.
Reach out to social media influencers and inquire if they already have a manager. If not, ask if they are open to having one. Keep in mind that just because they don't currently have a manager, it doesn't mean they want one. Don't take it personally!
I STRONGLY encourage you to flirt and date around A LOT before saying yes to anyone and getting what I call "talent manager and talent married." It's 100% worth it to put in a lot of work and time upfront to make sure you're the right fit BEFORE you sign anything.
Figure out what type of talent you'd like to represent. Not just what vertical niche (e.g. food, parenting, travel, lifestyle, etc) are they in, but what age are you drawn to? What gender? What type of content and on what platforms? That's a great first set of questions to ask yourself.
One of the things I love about being a talent manager is that it doesn't matter if I, or my clients are in Los Angeles, New York City or everywhere in between. This is a very online space!
How do I become an influencer manager?
I strongly recommend working under someone to learn the language of our talent management world in order to learn this still-emerging influencer marketing industry and how it operates.
There are a lot of terms to understand, especially when you're negotiating and when reading agreements. These are important terms that protect your client, and you. You want to make sure you know what to look out for and what each of them means.
What you don't want is your client's content to end up on a billboard for 5 years without them knowing about it or without any additional compensation to them! You've gotta know what to look for in the fine print of an agreement.
It's very true, as with many other things, that you become good at this by practice, by doing the work. Ideally you start to learn the talent management ropes by observing another good manager for months and then having them mentoring you closely.
What are the qualifications to be a talent manager?
An influencer talent manager has to be good at negotiation, project management, & must be very detail oriented. Talent agents also need to have great communication skills — we're in the middle of a lot of conversations, both directly with the brands and then with the content creator herself.
Talent managers also have to be good at saying no, sticking to boundaries and giving feedback that is difficult to say and hear. These hard conversations could be either with your exclusive talent or with the brand, perhaps pushing back on a request of theirs.
I think Shari Redstone summed it up pretty well: "In building a management team, I look for integrity, loyalty, vision, and a willingness to think outside of the box, and challenge the status quo. I also look for people who have a good sense of humor and who value and empower their team."