What do talent agencies do for influencers?
Managing Your Talent, Your Personal Guide To Influencer Talent Agencies –By Johanna Voss
In a world where the internet reigns supreme, being an influencer has become one of the most sought-after careers. But let's face it, while creating content that resonates with millions of people might be your passion, all the other (arguably less fun) parts of being an influencer is not everyone's cup of tea.
That's where talent agencies come in – they are the ultimate Fairy Godparents for Influencers, taking care of everything from brand collaborations to legal issues.
Think of them as the wingmen who help influencers soar to greater heights while also keeping their feet firmly on the ground. So why do influencers need them? Well, buckle up and get ready for a ride – we're about to spill all the tea 🤫 on what talent agencies actually do for influencers.
Why You Need To Hear This From Me : I'm writing this from the perspective of a successful 6-figure talent manager.
Yes, guilty as charged. Just so you know, I've seen a lot of information about what talent managers do from people who aren't talent managers.

Y'all need to hear from someone who is a full-time, bona fide, live-and-breath-it Talent Manager.
This is my life's work — providing talent management services 24/7/365. I'm negotiating campaigns, connecting with my network of hundreds (maybe thousands? 🤔) of agency & brand reps, and talking with content creators just like you. Around the clock, like your personal superhero on the block, I've definitely got my ear to the ground.
TL;DR? I've also:
Negotiated and closed over $4M worth of brand partnerships.
Managed hundreds of brand collaborations from …
…a diverse array of brand partnerships, ranging from international industry giants to charming local businesses of all shapes and sizes.
Still not convinced? My talent management agency has been in business since 2016. All this to say, I know my stuff. *Brushes shoulder, Girl Boss-style*
What does an Influencer Talent Manager do?
Talent managers do many things and wear a lot of hats — more on that in a bit.
But, first and foremost, talent managers are the face of an influencer's personal brand whenever brands reach out to inquire about brand deals.
When it comes to brand inquiries, yours truly becomes the face of these fabulous influencers. It's my mission to respond swiftly and warmly to brands, all while maintaining or establishing genuine connections. Whether we're exchanging emails or having a friendly chat, I seize every opportunity to uncover the exciting campaign details.
And hey, negotiating contracts for our epic brand collaborations? That's my domain! I tackle it with a warm smile and unwavering determination. Together, we're an unstoppable force, and I'm here to make sure we conquer the industry, one collaboration at a time. Let's rock this, my friend!
More often than not the brand or agency works closer with the talent manager than the talent.
The agency hears from me to say "Yes, my Influencer is interested in this campaign. Thanks so much for reaching out. Please tell me more about what you have in mind for this opportunity." Then I work out all the details — so you don't have to.
Pro Tip : If you can share a personal story or connection to the brand in your reply, do it!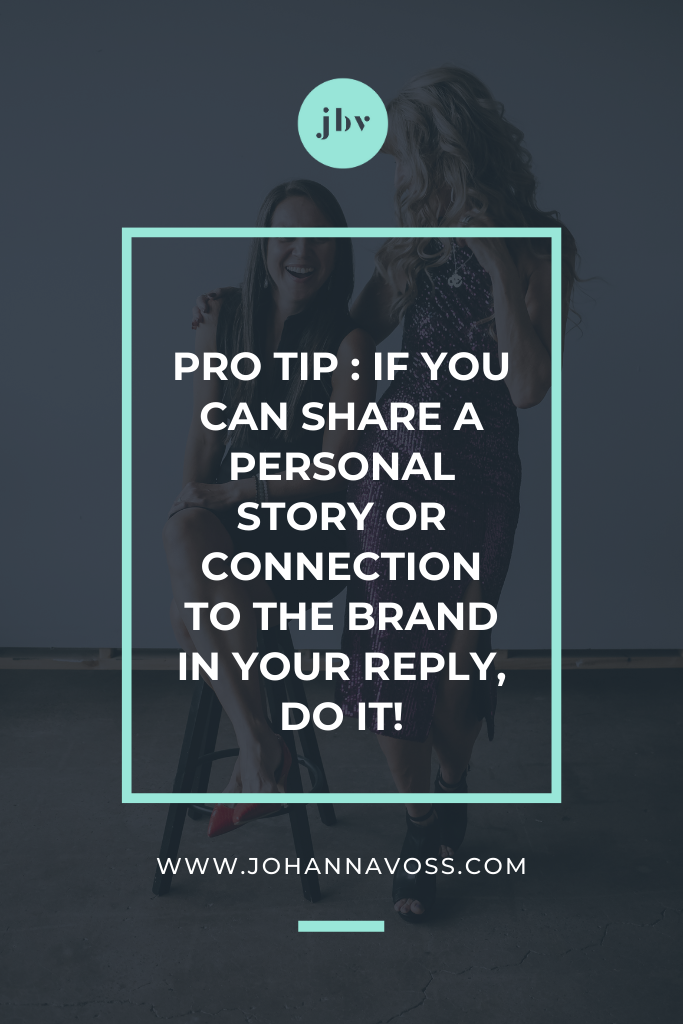 Talent managers – not all, mind you, but a lot of us – continue to stay involved with the campaign after the agreement has been signed, the creator has the brief, and is working on their content creation.
I'm a more full service agency for influencers because I'm involved from the first negotiation all the way thru until the final invoice has been paid.
Remember how I mention that us influencer agents wear a lot of hats? This is where it comes into play.
I'm a project manager, creating a timeline for the brand collaboration with content due dates, getting the brief for the influencer & helping bounce ideas around if necessary.
Consider me the master air traffic controller in this bustling realm of talent management. When our talented individuals find themselves juggling multiple campaigns, I step in with precision and finesse.
My keen attention to detail has saved the day more times than I can count! You see, it's my responsibility to have a panoramic view of the content creator's calendar, travel arrangements, and personal life.
Why, you ask? Well, it's all to ensure that their content is delivered on time, with no pesky overlaps that could compromise exclusivity. We all know how important those buffer windows can be (48 hours, anyone?) for a seamless brand collaboration.
So rest assured, my friend, I've got the organizational prowess to keep everything running like a well-oiled machine. No turbulence on my watch!
Influencer agents must have an intimate understanding of how their talent operates. Let's break it down:
When I say "content is due EOD," what does that mean to you? Is it the end of the day at 5 PM? 5 PM in Chicago time? Perhaps it's 5 PM Eastern Standard Time? Or does it refer to the actual stroke of midnight, 11:59 PM?
Here's a fun fact: I DO have a particular influencer on my roster who interprets EOD as precisely 11:59 PM. So, if I need something submitted to the brand on Tuesday, I inform her it's due Monday EOD.
Clear communication is key, my friend, and understanding each influencer's unique interpretation ensures a seamless workflow. Together, we'll navigate these time zones and deadlines with ease, leaving no room for confusion.
And y'all? This is just one mere example of a gazillion crucial details that influencer agents manage with influencer marketing campaigns — and, the field of influencer management as a whole. It's not for the faint of heart, I tell you!
As an influencer talent manager, I serve as the vital intermediary between the influencer marketing agency and my talented individuals.
If a brand becomes demanding, needy, or wishes to alter the Statement of Work (SOW) post-agreement, it is I who gracefully push back, firmly stating, "No, we're sticking to the SOW."
Likewise, if the brand has constructive feedback for the social media influencer regarding their content, I am the one entrusted with delivering that news. Think of me as the bridge, ensuring effective communication and safeguarding the interests of both parties involved.
In the realm of influencer management, when the influencer marketing agency initiates a partnership and requests demographic information regarding the creator's social media platforms, it is I, the dedicated talent manager, who takes charge of collecting and disseminating that valuable data.
In addition to overseeing project management and skillfully negotiating contracts, many of us talent managers wear — get this — EVEN MORE HATS. We become the number one cheerleader, the ultimate hype person, and at times, even the trusted confidant and listener to our beloved influencers.
We provide unwavering support, offering encouragement, guidance, and occasionally even playing the role of a therapist. We're there every step of the way, ensuring our talent feels empowered and ready to conquer the world.
What Are Influencer Talent Agencies?
Influencer talent agencies are companies that represent talented, established social media influencers.
Since you've found your way here, you probably already know that I am the CEO and founder of the johanna b. voss Agency. I specialize in representing women from diverse backgrounds and facilitating intentional brand partnerships. If you're curious about the influencers I represent, feel free to check out my agency's roster.
There are numerous influencer talent agencies in the industry, and I'm certainly not the first, nor will I be the last to become an influencer talent agent. When you're looking for a talent manager to represent you, it's crucial to do your research.
Hiring a manager is one of the most impactful things you can do for your business, for better or worse, depending on how things work out.
Influencer talent agencies can be boutique, like mine, where a small team handles talent representation. In my agency, I'm the sole representative, which is how I prefer it. This allows me to have a close personal connection with everyone on my roster. I don't aim to expand too much because I want to provide all the services I currently offer. I'm incredibly efficient and effective at what I do, but it's important to note that I am a one-woman-show!
On the other end of the spectrum, the biggest influencer management agencies that represent influencers that are the biggest in the industry. Their rosters consist of 100+ individuals, and they have a full team of 10+ managers working directly with the talent.
Pro tip: When searching for a manager, ensure that you are the right talent for their roster. Take a look at the other individuals they represent. Will you stand out or blend in? Are there already 5+ people with a similar profile to yours? Will you be a small fish in a big pond, or a big fish in a smaller pond? Hint: You wanna be the latter. 😉
Need suggestions on talent agencies to research? Keep reading. I've got some suggestions for you below.
Benefits of Working With an Influencer Talent Agency
Working with an influencer talent agency comes with several great benefits. Let me break them down for you:
Firstly, there's strength in numbers. When a manager can present a roster of talented individuals who fit a campaign request, it increases your chances of being included in that campaign. Brands get the advantage of having multiple talents to work with while maintaining a relationship with just one talent manager. It means you could be considered for campaigns that you might have otherwise been passed over for.
Secondly, being part of an influencer talent agency gives you a supportive community to learn from. In my agency, we have a close-knit roster, and we genuinely care about each other. We have monthly Zoom calls where we connect, share updates, and discuss relevant topics. We talk about everything from using ChatGPT for Instagram captions to sharing best practices, seeking advice on challenges, venting about brand collabs gone wrong, and supporting each other's content. It's like having a beehive (or Bey-hive??) of knowledge, support, and cheerleading!
Another perk is that your manager takes care of brand responses and contract negotiations on your behalf. Let's face it, not everyone enjoys those negotiations or talking about money. But fear not! With a talent manager, you can focus on what you do best: creating awesome content. Managers handle the nitty-gritty details, leaving you more time to shine.
Lastly, working with an influencer talent agency can significantly contribute to building your personal brand. Your manager provides valuable feedback on your social media platforms and content. They're in direct communication with brand decision-makers, which means they have insider knowledge and feedback on what brands are looking for. You get insights on what makes an influencer stand out to them. This is incredibly beneficial for everyone in my roster!
So, by teaming up with an influencer talent agency, you not only increase your chances of being selected for campaigns, but you also gain a supportive community, delegate the not-so-fun tasks, and receive guidance to boost your personal brand. It's a win-win-win-win situation! 🎉
Do influencers use talent agents?
They sure can but not all influencers do. Ultimately, it depends on the influencer and the talent agent finding a mutual agreement that the partnership will be beneficial. Interestingly, there are some really big influencers with tons of followers making 6-7 figures out there who choose not to work with a manager. On the other hand, there are "smaller" influencers with around 10,000 or more followers who do work with an influencer manager. It's a personal choice, and each influencer decides what works best for them. There's no one-size-fits-all approach in this industry!
Leading Influencer Talent Agencies
When you begin your search for a talent manager for your business, it's important to do your due diligence and interview multiple people. YEP! You heard that right — you're going to interview lots of folks for the coveted role of being YOUR manager.
REMEMBER: Not every influencer is the right fit for every management agency.
Each influencer agency operates differently, based on their business structure, the type of content creators they prefer to work with, and their specific areas of expertise.
For example, I know some top-notch influencer talent managers who focus on one or two specific niches. They excel in working with creators who produce content in those areas. On the other hand, there are agencies that have a broader scope and represent creators across various niches such as food, fashion, travel, beauty, parenting, technology, health & wellness, and more.
So, when you're exploring talent agencies, remember to consider their unique approach, niche focus, and the incredible women behind them. It's an exciting journey to find the perfect match for your influencer career!
Now let's check out some of what I think are the best talent agencies around. P.S. All of the top talent agencies I'm about to mention are led by women from diverse backgrounds and walks of life. Are these the biggest talent agencies? Are they famous talent agents? Not yet, but who knows what the future holds! I could totally see being a celebrity agent in the future… 🔮
I would be remiss if I didn't mention my own agency, right? I believe in the work that I do and I'm not afraid to toot my own horn. At the time of writing this, my agency represents women, with a focus on women of color.
When it comes to the type of creators I represent, my strongest verticals are food, travel & health, and wellness. I'm proud to say that many of the women I represent are bilingual (yes, I'm going the extra mile to fight for equal pay and representation) and come from diverse generational backgrounds. From Millennials to Boomers, and even some Gen X-ers in between, I'm all about embracing multi-generational talent.
If you're curious about the influencers I currently represent, you can check out my up-to-date influencer talent roster HERE. While I'm based in Denver, my creators are spread across the country.
So, if you're looking for a talent manager who focuses on empowering women, particularly women of color, and specializes in the food, travel & health, and wellness niches, then my agency might be the perfect fit for you. Let's join forces and make a difference together!
Founded by Molly Tracy, VRAI is a talent management and influencer marketing agency for babes and brands with a point of view. Her mission is rooted in uplifting and amplifying female-founded brands and voices while obsessively expanding their digital footprint. Equal parts brand builder, business manager and digital strategist, she helps creators navigate the business side of the multi-media landscape. It should also be said that she's a great friend of mine. I love Molly!
Founded by Taylar Barrington-Booker, Agency Cliquish is management & development for Black digital talent. Since 2021, they've provided exceptional management, strategy, and opportunities to represented talent with a mission to close pay gaps, promote diversity, and maximize earning potential. They believe great management is above and beyond. They are a full-service management agency focused on a 360 approach to digital careers. Oh, and in case you were wondering, TBB is a fantastic human and I adore her.
Founded by Jenny Digh-Sanfranskoy, JDS Projects is a Talent Management Agency that represents diverse female influencers and experts who are making community impact. Our talent roster includes notable chefs, podcasters, media personalities, wellness experts and more. Jenny herself is great, and she's representing some really interesting, diverse talent.
Cara has taken a different approach to facilitating organic content partnerships with brands by representing the individual influencer.
On behalf of each influencer, Cara manages the business aspect of building relationships with the right brand teams to help monetize the influencers' channels, so they can focus their efforts on writing captivating content and engaging with their followers. Cara was one of the first people I looked at when I was starting my agency. She's also quite boutique and has so much knowledge!
Founded by Kamla Pande, Moondust is a full-service talent management company dedicated to driving career growth and sustaining longevity for digital-first entrepreneurs and creators. Her creator list is fun and diverse!
Founded by Laurie Buckle, Cook-It Media is a full-service influencer marketing agency that elevates food and lifestyle brands to success in an ever-evolving marketplace.
Founded by Erin Cutler, Neon Rose is the leading health, wellness & lifestyle agency in today's booming influencer marketing industry, representing some of the biggest talent and brands in the game.
Their clients work to create and to connect through thumb stopping content that engages the consumer. As an agency, they are closing the gap between influencers and brands through the holistic approach applied to everything they do — mind, body & soul (& social, of course).
Founded by Jess Hunichen and Emily Ward in 2015, with offices in Los Angeles and Toronto, Shine Talent Group has proudly worked with hundreds of talent across thousands of brands. With consistent year over year growth and a reputation for being an advocate and educator in the industry, they have built our name on being a strong support for the agencies and talent they work with and cutting through the clutter to identify the core principles of ambassadorship that make collaborations successful.

KD Comms, Manager Kendall, Briana Wilson of NYLA Influencers, Inf Influencer Agency, Kensington Grey, and Shade Talent Agency are a few more influencer talent agencies to check out.
The influencer talent agencies I mentioned earlier are scattered throughout the United States, from Los Angeles to New York City, and everywhere in between. As for me, I'm based in Denver. But no matter where we live, we are all proud to be some of the leading and best influencer talent management agencies out there, working tirelessly to support diverse and intelligent creators.
One of my favorite aspects of the influencer and social media marketing world is that we can do our work from anywhere. All we need is a strong Wi-Fi connection, and we're good to go! That's why it's truly a world of digital influencers, breaking down geographical barriers and allowing us to collaborate and create magic from wherever we are.
So, whether you're in Los Angeles, New York City, Denver, or any other place around the globe, the power of the digital realm enables us to connect, collaborate, and make a meaningful impact as influencers.
How much do managers of influencers make?
Influencer managers earn their income through a commission percentage from each brand collaboration deal they negotiate on behalf of their clients. The industry standard typically ranges between 10% to 20%, although many influencer managers I know typically earn the higher end of that range, around 20%. Some managers ( 🙋🏻‍♀️) may also have a retainer fee for the initial 60-90 days of working with a client, in addition to a smaller commission.
So, when considering working with a manager, it's always a good idea to ask them about their specific rates and how they structure their fees. This way, you can ensure a clear understanding of their financial arrangement and make an informed decision that aligns with your goals.
What to look for in an Influencer Talent Agency
As your Fairy Talent Manager 🧚, I truly believe that finding the right fit is key. Just like I interview and research to make sure we're a match made in influencer heaven, it's essential for you to do the same. You've gotta go into the hiring process with eyes wide open, you know? So, here are the top things you should be looking for as you embark on your epic quest:
First off, take a peek at their current roster. Do they already have a bunch of influencers similar to you? In other words, will you be a small fish in a big pond? It's essential to know if they have a lot of creators with similar content. We want you to stand out, not get lost in the crowd. Another thing to consider: if they're pitching talent to a brand, will you be their top priority? Or are there others just like you who have been with the agency longer and you're just the new talent?
Next, let's talk business models. Ask them about the nitty-gritty details. What percentage of the brand deals do they earn? Do they have a retainer? How do they make money? You'll want to know which pots of your business they'll be involved in and, consequently, earn money from. Are they dipping their toes into your books, affiliate links, courses, or digital ad revenues? (BTW, this isn't a bad thing, you just need to know up front so you aren't surprised by it down the road.)
Last but not least, have an open conversation about expectations. Get to know what they expect from you as an influencer and make sure you're clear on what you should expect from them as your talent agent. The key to any successful partnership is COMMUNICATION COMMUNICATION COMMUNICATION.
It's important to find the talent agency that's a perfect fit for your dreams and aspirations. So, don't be shy, ask these questions, and keep on interviewing until find your happily ever after in the influencer world!
What Does An Influencer Manager Do — FAQs
How do influencer marketing agencies make money? How do influencer agencies get paid?
Influencer marketing agencies receive payment from brands to execute their campaigns. This payment encompasses both the agency's fee for running the campaign and the budget allocated to hire influencers to participate in those campaigns.
As an influencer talent agent, I earn my income through a commission on the brand collaboration deals that I secure for my clients. The industry standard commission tends to be around 20%. This means that when I successfully close a brand collaboration on behalf of my clients, I receive 20% of the total payment as my commission.
It's important to note that the specific commission percentage and payment structure may vary among different influencer talent agents and agencies. However, 20% is a common benchmark in the industry. Ultimately, my goal is to secure the best brand collaboration opportunities for my clients and ensure a fair and mutually beneficial arrangement for everyone involved.
For more detail, jump back up to the main blog post under the header "How much do managers make?"
Do talent agencies charge a fee?
We don't charge a fee. We earn our commission. And believe you me, I earn my 20%.
Why do influencers need agents?
When your inbox is bursting with amazing paid opportunities, it might be time to consider teaming up with an influencer talent agency. Why? Well, let me break it down for you in a friendly, casual way.
Having an agency by your side means you'll have someone who can quickly respond to all those exciting marketing campaigns flooding your inbox. No more stressing about missing out on fantastic collaborations! Your agency will handle the incoming requests like a pro.
An influencer talent agency is also your secret weapon when it comes to negotiating brand collaborations. They know the ins and outs of the industry and will work their magic to score the best deals on your behalf. Having a skilled negotiator in your corner, ensuring you get the most out of every collaboration? BIG BONUS!
Finally, with an agency, you don't have to worry about juggling all the project management details on your own. They've got your back! From coordinating deliverables to managing timelines, they'll take care of the nitty-gritty stuff, so you can focus on doing what you love—creating awesome content.
For more on whether you're ready to hire an influencer talent management agency, read this article I wrote about what talent managers do.
Should I work with an agency as an influencer?
Let me ask you this. Are you overflowing with inbound, quality opportunities? Have you earned $100K or more in the past 12 months on your brand partnerships? If you can answer yes to both, I'd strongly encourage you to work with an influencer management agency to help you manage all of your inbound brand deals. Remember us influencer agents earn our money only when we close a deal for you. So if you're not yet getting paid ~ 6 figures for brand deals, I don't know that it makes sense to seek representation yet. Want to learn how to do that tho? Click here to learn about my influencer coaching session.
Do talent agencies pay for the increase of the talent's social media views?
No, talent agencies don't boost any of the social media views of anyone on our roster. Sometimes the talent does that themselves, or the brand does it as part of their paid media strategy.
How do I start an influencer agency?
if you're thinking about starting your own influencer agency, I've got a very, very, very strong recommendation for you: Work in-house at an agency first! Trust me, it's like getting a crash course in the language of this industry. You'll learn how to read those crazy agreements and mark them up like a pro.
You see, as an agent, you're responsible for representing other people's careers and livelihoods. They're putting their trust and faith in you, believing that when you recommend them to say "yes" to a brand partnership, you've got their back. It's crucial to know exactly what they're getting into, so you can navigate the wild world of influencer agreements like a true pro.
Then take that one step further to being your own one-woman show? It's no walk in the park. It's more like running a marathon while juggling flaming batons. Okay, maybe that's a bit dramatic, but you get the picture.
But, real talk: being an influencer manager is singlehandedly the most trying, difficult, exhausting thing I've ever done. It's tough, exhausting, and not for the faint of heart.
Don't get me wrong, I wouldn't change my own journey for anything, and I'm aiming for Kris Jenner manager goals, but honestly, being an entrepreneur? Highly not recommended — unless you're a glutton for punishment like me!!!
Are talent agencies that ask you to pay an upfront 500 fee actually worth anything or are they a scam?
What a question. Ask what you're getting in exchange for the $500. I personally charge a retainer fee for the first 90 days of working with me. In return, I spend a lot of time onboarding you, learning everything I can about your brand and how you work, then pitching you to my network and hustling to get your name out there. I know I'm not a scam, but who is to say what others do with the $500? Remember how I said you've gotta interview them (LOTS of them)? That's the best way to find out!
How long should I give a talent agency to respond to my email before I assume they aren't really interested?
First things first, kudos to you for reaching out to them! It takes guts, and I love your proactive attitude. Now, when it comes to follow-ups, persistence is key. Give it at least one more shot. Maybe, just maybe, your email got lost in their spam folder. We've all been victims of that dreaded spam filter at some point. So, get creative! Drop them a friendly DM or leave a comment on one of their recent posts. Find different ways to flag that you've emailed them and you're eager to connect.
But hold up, before you go all-in with the follow-ups, make sure to confirm one crucial thing: Are they actually accepting new talent at the moment? You could be an amazing fit, but the timing might be a bit off. So, double-check their status and ensure they're open to considering new talents. Timing can be a funny thing, you know.
So, my friend, keep that positive energy flowing, follow up like a pro on various platforms, and confirm their availability. With a little persistence and good timing, you've got a great chance of catching their attention. You've got this!
How are companies finding influencers?
Influencer marketing companies have a few tricks up their sleeves when it comes to finding influencers for brand collaborations.
Whether it's leveraging databases, monitoring hashtags, collaborating with talent managers, or spotting organic brand mentions, influencer marketing companies employ various strategies to find the perfect influencers for their brand collaborations. It's a mix of art, science, and a touch of magic that brings these partnerships to life!
How do social media influencers find managers?
Social media influencers discover talent managers through diligent research. Some influencers come across my firm by searching for terms like "Influencer Agent" directly on Instagram. Others find me through the Google.
Other influencers rely on word-of-mouth recommendations within their networks of fellow content creators or through Facebook groups. These connections often lead to email introductions, allowing influencers to establish initial contact with potential talent managers. So, whether it's through online searches, recommendations, or networking, influencers need to put in the effort to find the right talent manager for their needs.
For a good spot to start, hop back up to the "Leading Influencer Talent Agencies" header in the blog post above where you'll see my favorite list of talent management companies.